Source Microsoft https://c.s-microsoft.com/da-dk/CMSImages/Windows-11_1083_Hero_Latest.jpg?version=eab61d0a-2d4e-0e54-4094-8cd3885f553d
Introduction
Everyone thought Windows 10 would be the last operating system from Microsoft. Personally, I thought that could not be true. Guess what, Microsoft is presenting the new Windows 11 on October 5th. I am super happy about the announcement as I think Windows 11 bring value to the table. Some would say it is a service pack to Windows 10, but it is not. Windows 11 is designed to support today's hybrid work environment and intended to be the most secure and connected Windows platform so far.
Windows 11 shares the foundation of Windows 10 so you will have application compatibility from Windows 10 and if you invested in device management systems that will most likely be able to manage your Windows 11. One thing is sure. Configuration Manager and Microsoft Intune from the Microsoft Endpoint Manager suite are ready to do the job.
In this article we will cover the ways you get started with Windows 11.
Windows 11 device requirements
Before you can even think of installing Windows 11 there are some system requirements that needs to be met.
Note that Windows 11 does only come as x64 bit system.
| | |
| --- | --- |
| Hardware | Requirement |
| Processor | 1 gigahertz (GHz) or faster with 2 or more cores on a compatible 64-bit processor or System on a Chip (SoC). |
| RAM | 4 GB |
| Storage | 64 GB or larger storage device |
| System firmware | UEFI, Secure Boot capable |
| TPM | Trusted Platform Module (TPM) version 2.0 |
| Graphics card | Compatible with DirectX 12 or later with WDDM 2.0 driver. |
| Display | High definition (720p) display that is greater than 9" diagonally, 8 bits per color channel. |
Windows 11 requirements – What's new in Windows | Microsoft Docs
Windows 11 license requirements
Nothing new here. Same requirements as for Windows 10.
Windows 11 Servicing
Windows 11 will receive monthly updates and bug fixes like Windows 10. Nothing new here.
Windows 11 will only receive feature updates one per year where Windows 10 receive twice a year.
Get your environment ready
Depending on your current environment, there are some actions to take before being supported on Windows 11.
Configuration Manager
Readiness report
If you use tenant attach you can easily make use of insight in Endpoint Analytics which will give you a nice overview of which devices are capable and not capable of upgrading.
If you cannot use tenant attach and Endpoint analytics there is also a Hardware readiness PowerShell script that you can run in the link.
Understanding readiness for Windows 11 with Microsoft Endpoint Manager – Microsoft Tech Community
Upgrade Windows 10 -> Windows 11
Servicing
Upgrade Task sequence
Bare-metal Task sequence
Microsoft Intune
You don't have to do anything. It is already supporting Windows 11.
Readiness report
If you are licensed to Endpoint Analytics you easily get insight on your environment if devices are capable or non-capable to upgrade to Windows 11.
Understanding readiness for Windows 11 with Microsoft Endpoint Manager – Microsoft Tech Community
If you need even deeper insight, you can collect custom inventory.
How to collect custom inventory from Azure AD Joined devices – Microsoft Tech Community
Upgrade Windows 10 -> Windows 11
You are most likely using Windows update for business. If you have Windows 10 or later ring enabled, it will not upgrade your devices to Windows 11. It will stay on Windows 10 and add the feature update that become available for Windows 10 and that only.
To upgrade to Windows 11, you will have to use the Feature update deployment to move the device from Windows 10 to Windows 11.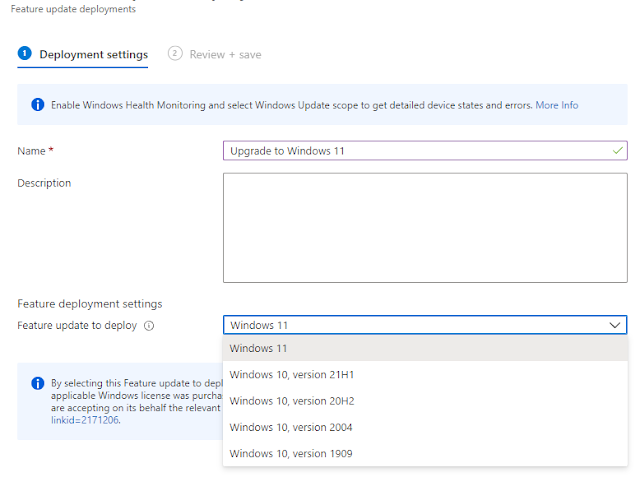 As Windows 11 is released 5th October, you should not try to use this feature before after the launch.
Summary
Exciting new Windows 11. I have been running it in preview builds and it looks and works very nice.
I hope this post helped you to get started on your Windows 11 journey.
Happy deployment!